Good tillage is important to facilitate the work in the field and ensure a good yield
Therefore, a solid and reliable stubble cultivator that works well is important for ensuring that the soil is well mixed and the crops are provided with optimal conditions.
This in turn provides the best yield. A stubble cultivator helps to control weeds and stimulate the breakdown of straw and plant residues in the stubble field, ensuring that it is prepared for next year's crops.
A DALBO cultivator ensures that the soil is optimally mixed while
leaving the soil well packed and even. This produces optimum soil conditions for subsequent drilling.
The significance is in the details
We have developed, manufactured and sold agricultural
implements for over half a century, which is why we know that durability and smooth functioning machinery is of paramount importance for our customers.
With a focus on implementing this basic view in all corners of the company, we are proud to be able to supply innovative and durable machines to modern farmers all over the world.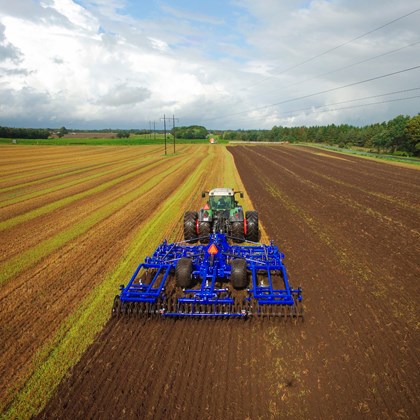 One of our foremost tasks at DALBO is to be able to help farmers with the challenges they face in their work.
Stubble cultivator
We offer two different categories of stubble cultivators:
TRIMAX lift is a mounted cultivator available in working widths from 3.00 to 5.20 m.
TRIMAX trailed is a trialled cultivator that can be supplied in working widths of 5.20 and 6.30 m.