Modern agriculture is very demanding in terms of the versatility of machines, as new and different types of soil preparation require highly specialised machines for soil preparation
The narrow time window in which the various phases of cultivation and preparation of the fields can be carried out presents a challenge to many farmers.
Rethinking the processing of stubble and subsequent crops 
Knife rollers are an efficient, high-capacity solution for dealing with all kinds of stubble that need to be converted quickly. Knife rollers cut chrough stubble and plant remains of e.g Maize, rapeseed, grain, vegetables, sunflower and tobacco.
The stubble is broken up and crushed on the surface of the soil and is thereby "mixed" with a little soil so that the microorganisms can start their work.
At the same time, the knife roller is an effective remedy against the maize borer beetle, which is an ever-increasing challenge for maize cultivation. The larvae overwinter in the stubble, and the only control of them without chemical application is the disintegration and crushing of the corn stubble, where a knife roller is an effective tool.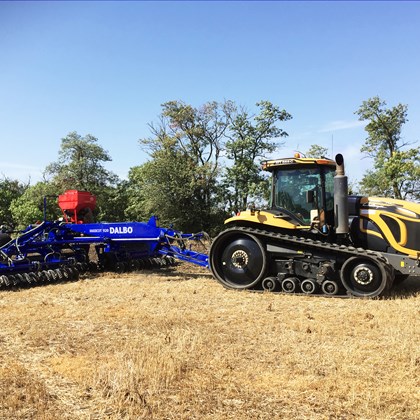 Future-proof agricultural tool
A knife roller is a tool developed to process the part of the plant remains that is above the soil surface, without destroying the root system.
Knife roller work is very cost effective with a diesel consumption of approx. 3 l/ha, and at the same time has a large capacity with a speed of up to 20 km/ha and working widths ranging from 1,50 to 9.20 m. Together, this makes the knife roller a usable and innovative machine that both saves you time and fuel.