Modern agriculture is very demanding in terms of the versatility of machines, as new and different types of soil preparation require highly specialised machines
The narrow time window in which the various phases of cultivation and preparation of the fields can be carried out presents a challenge to many farmers, especially those who have many hectares of land.
These new and demanding conditions for farmers mean that we have had to revise the approach to soil preparation machines in general and rollers in particular.
That is why we at DALBO started around the turn of the millennium to develop what we call a system roller. It all started when we replaced the conventional board in front of the MAXIROLL roller with a cracker board, and the concept has since been further developed and refined over two decades.
A versatile roller 
Compared to a conventional roller typically used before and after sowing, a system roller has a much wider
range of applications.
With the option of mounting up to 10 different attachments, our MAXIROLL system roller can perform a wide range of tasks from stubble cultivation after harvest to weed control in false seedbeds.
This places our MAXIROLL far ahead of the competition when it comes to efficient versatility, making it a very cost-effective machine.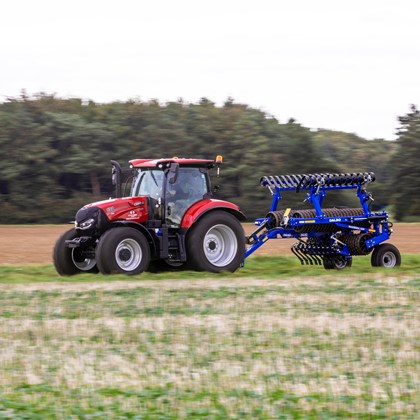 Future-proof agricultural tool
More and more countries and regions are restricting or banning the use of chemical weed control, and this is increasing the demands on the efficiency, versatility and development of tillage machines and equipment.
In addition, the growing prevalence of new tillage methods means that many farmers demand new types of implements.
With our system rollers, we help farmers solve current challenges and prepare for tomorrow's challenges.
Our primary focus on rollers combined with the ambition to deliver machines that meet the demands of the modern farmer, means that we will continue to develop our system rollers so that we can deliver the best products and solutions – also in the future.
System roller variant
We offer three different categories of system rollers.
MAXIROLL – exclusive roller, available in sizes
from 5.30 to 10.30 m.
MAXIROLL HD − unique and heavy duty version of our
MAXIRIOLL 8.30 to 12.30 m.
MAXIROLL GREENLINE − professional grass roller
available from 3.00 to 8.30 m.