ROLLOMAXIMUM 620-1240
The ROLLOMAXIMUM is the premium precision seedbed cultivator on the market, designed for extremely efficient and accurate preparation of seedbeds in a single pass. The front and rear roller sections ensure a constant and precise working depth of the ROLLOMAXIMUM's tines, as well as optimal levelling and consolidation of soil, which results in a perfect seedbed.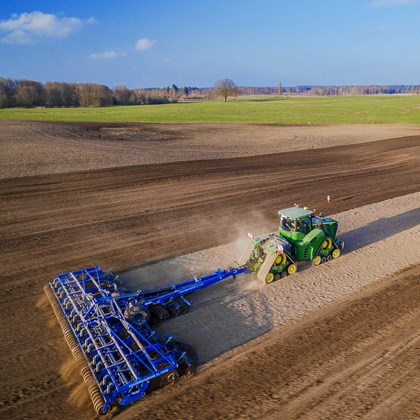 Working width
6,20-12,40 m
ROLLOMAXIMUM 620
Weight with Crosskill roller
6.970 kg
Min. power requirements
175 HP
Number of cracker board tines
21 pcs.
ROLLOMAXIMUM 750
Weight with Crosskill roller
7.745 kg
Min. power requirements
225 HP
Number of cracker board tines
27 pcs.
ROLLOMAXIMUM 930
Weight with Crosskill roller
10.470 kg
Min. power requirements
175 HP
Number of cracker board tines
120 pcs.
ROLLOMAXIMUM 1240
Weight with Crosskill roller
12.970 kg
Min. power requirements
350 HP
Number of cracker board tines
69 pcs.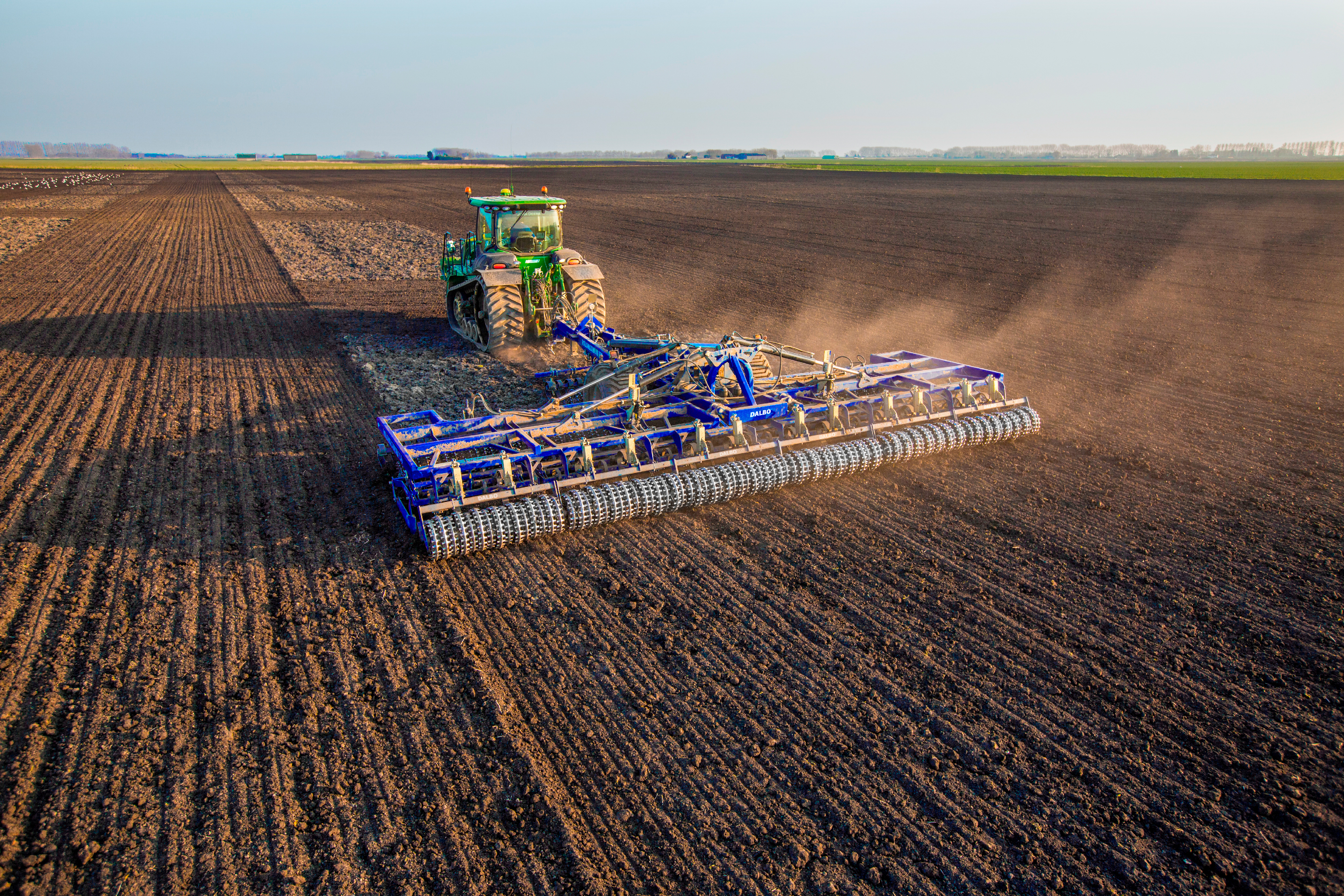 Concept
Our ROLLOMAXIMUM is a unique hybrid of a 4-row seedbed cultivator: cracker board, levelling board and two roller sections
The unique construction of the ROLLOMAXIMUM enables you to create a seedbed in a single pass in most soil types.
This means that the ROLLOMAXIMUM achieves a very high capacity
without compromising on the quality of the work performed.
The six operating zones of a ROLLOMAXIMUM are:
Wheel Track eradicator, which eradicates compaction left from the tractor.
Cracker board, which crushes clods and begins leveling the seedbed.
First Roller section, Cast iron Crosskill rollers work to further break down and level the seedbed.
4 row tine sections, which are controlled accurately to the desired depth via the hydraulic system.
Rear leveling board.
Rear pressed steel Crosskill roller, leaves a fine and even finish
to the seedbed.
ROLLOMAXIMUM creates the optimal seedbed, thereby helping to increase yields by up to 1.5 tonnes/hectare, especially for the cultivation of beet, maize and other specialist crops.
The ROLLOMAXIMUM is available in 6.2 and 7.5 m vertical folding
and 9.3 and 12.4 m horizontal folding. All models fold to 3 m for safe road transport.
Standard equipment
ROLLOMAXIMUM standard equipment
Fully hydraulic folding and unfolding. Allowing you to go from
transport position to working position without leaving the tractor.
LED lighting.
Strong frames made of high-tensile steel.
Hydraulic weight distribution via DUOFLEX ensures an evenly
distributed ground pressure over the entire working width,
regardless of the contours of the ground.
DUOFLEX with individual working sections.
Automatic transport security for optimal safety during
transport.
4 row tine section with 8 cm spacing.
Hydraulic cracker board.
Crosskill roller front and rear.
Rear spring suspended levelling board.
Hydraulic brakes and hydraulic jack on 930 and 1240.
Hydraulic parallel-suspended cracker boards on 930 and 1240.
Hydraulically sprung Crosskill roller section on 930 and 1240.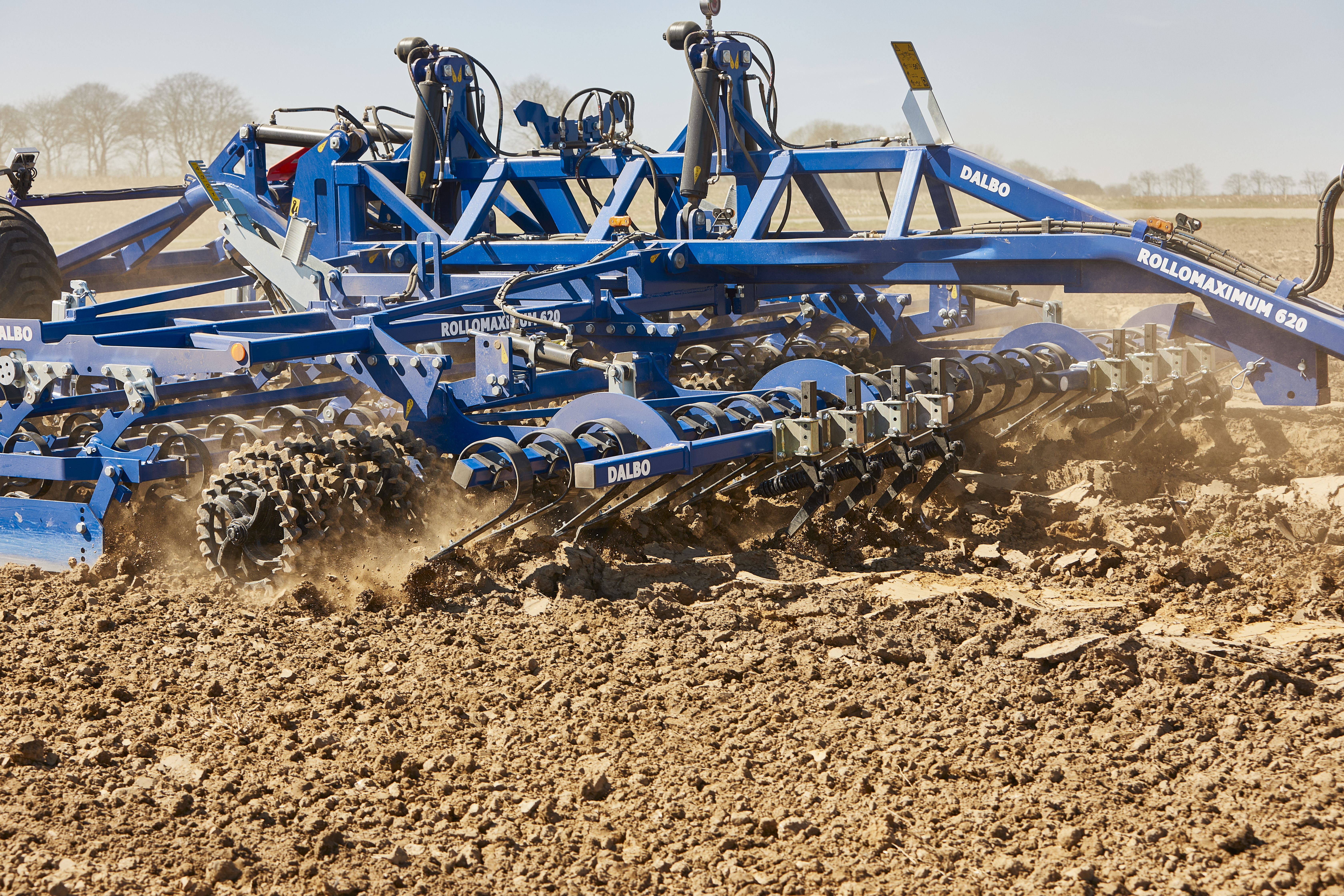 Cracker board
Hydraulically adjustable cracker board tines with angled wearing points. This makes it ideal for crushing clods and levelling the soil so that the roller section can work as effectively as possible.
The working angle of the cracker board on ROLLOMAXIMUM 620 and 750 is set hydraulically and at the same time adjusts how aggressively the soil is tilled.
The working angle on the 930 and 1240 is mechanically pre-set via spindles, and the working depth is controlled hydraulically via parallelogram suspension for field operation.
This means that the pre-set tine angle is not affected by the change in working depth, which makes it possible to maintain an aggressive tine position regardless of the working depth.
This results in a more intensive crushing of clods and an optimal leveling effect. Each cracker board section is individually suspended and adjustable.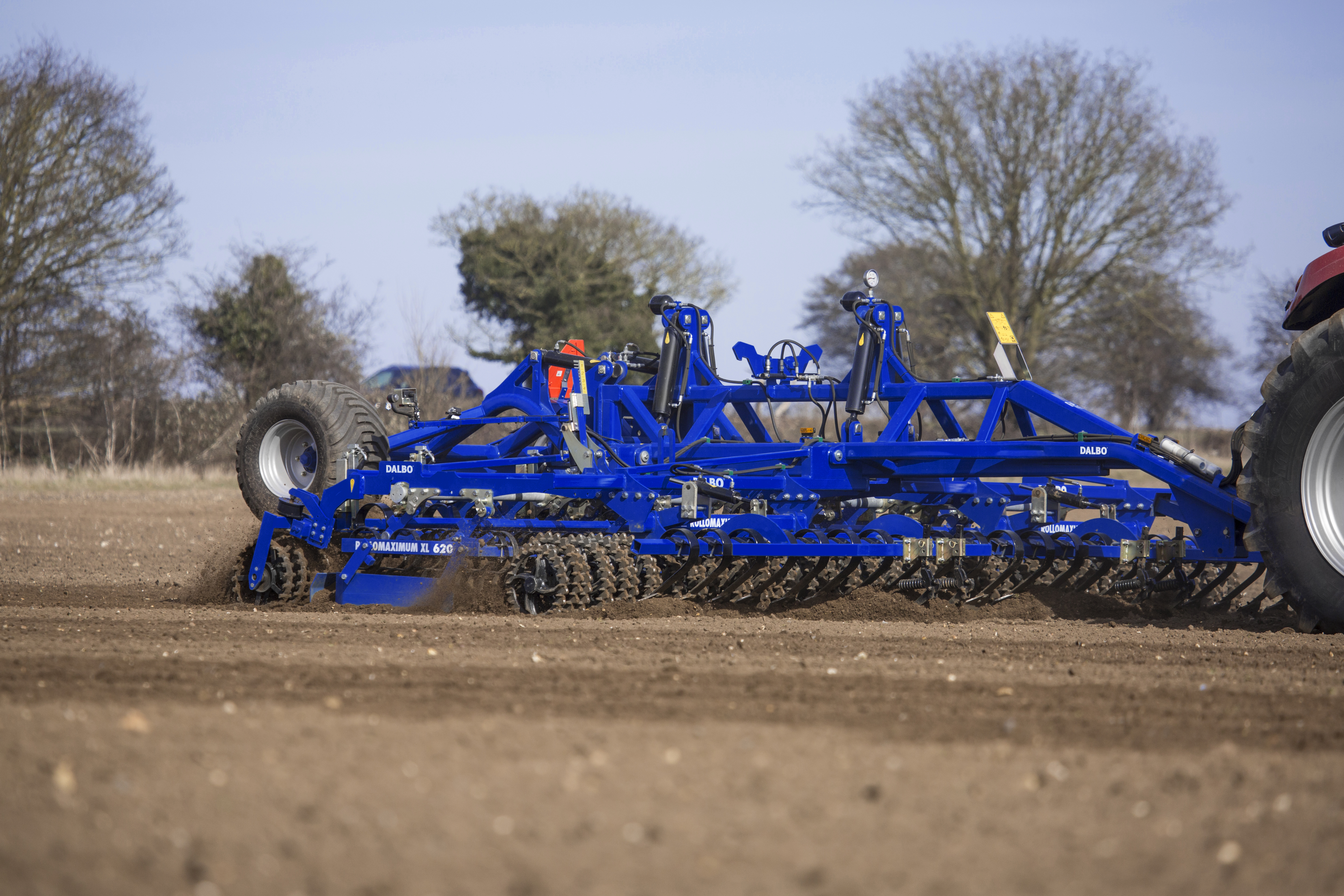 Cast iron Crosskill roller
Moulded Crosskill rings are heavy types of rings, primarily used to prepare seedbeds in combination with a hydraulic cracker board to leave a fine seedbed.
The topsoil layer is loose, while the soil just below the surface is firmer. This is the ideal seedbed with optimal germination conditions.
For extremely light soil types, we can provide either a bogie U-ring configuration or Ø 500 mm cage roller. On the 930 and 1240 versions, each roller section is hydraulically suspended and can raise 18 cm in a vertically upward direction.
This ensures a long service life of the roller rings, as the individual
sections can go clear of stones and major unevenness in the field without having to lift the entire harrow.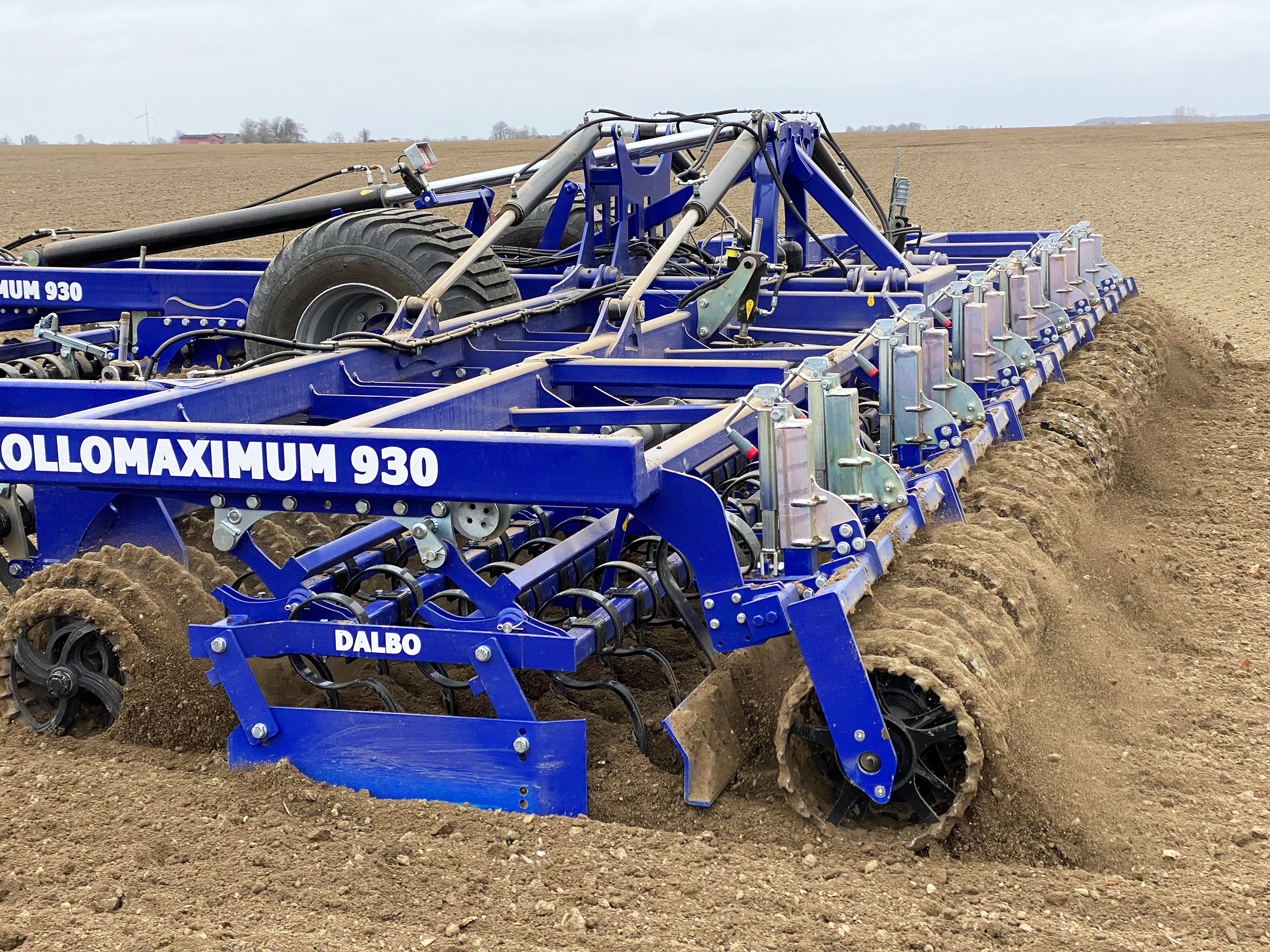 Harrow section
The harrow sections are divided into sections of 1.58 or 1.89 m and consists of 4 rows of heavy duty straight tines as standard. The tine spacing is 8 cm with a 30 cm spacing between each row.
This ensures an even flow of soil and surface material through each section. Each harrow section is suspended in a parallelogram, ensuring a consistent and even working depth across the width
of the machine.
The hydraulic depth adjustment allows the driver to set the depth
steplessly from 3 to 15 cm. The standard 4-row tine section can be replaced by 3 rows of stubble tines.
The tine consists of a sturdy 25 mm tine with goose point, where the tine spacing is 260 mm and spacing between the rows is 475 mm, which allows material to flow though evenly.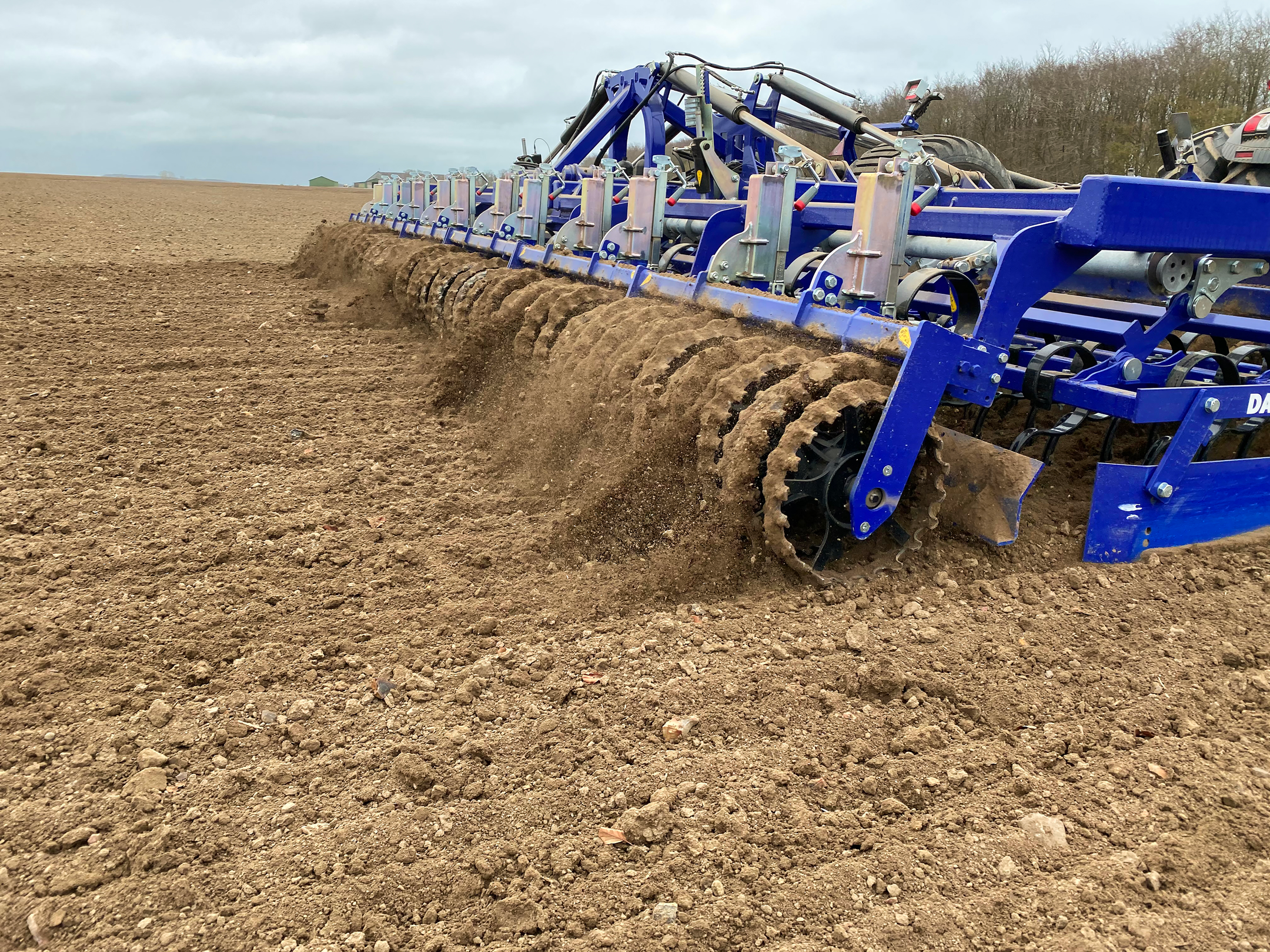 Levelling board
The spring suspended levelling board crushes clods and levels the soil after the harrow tines.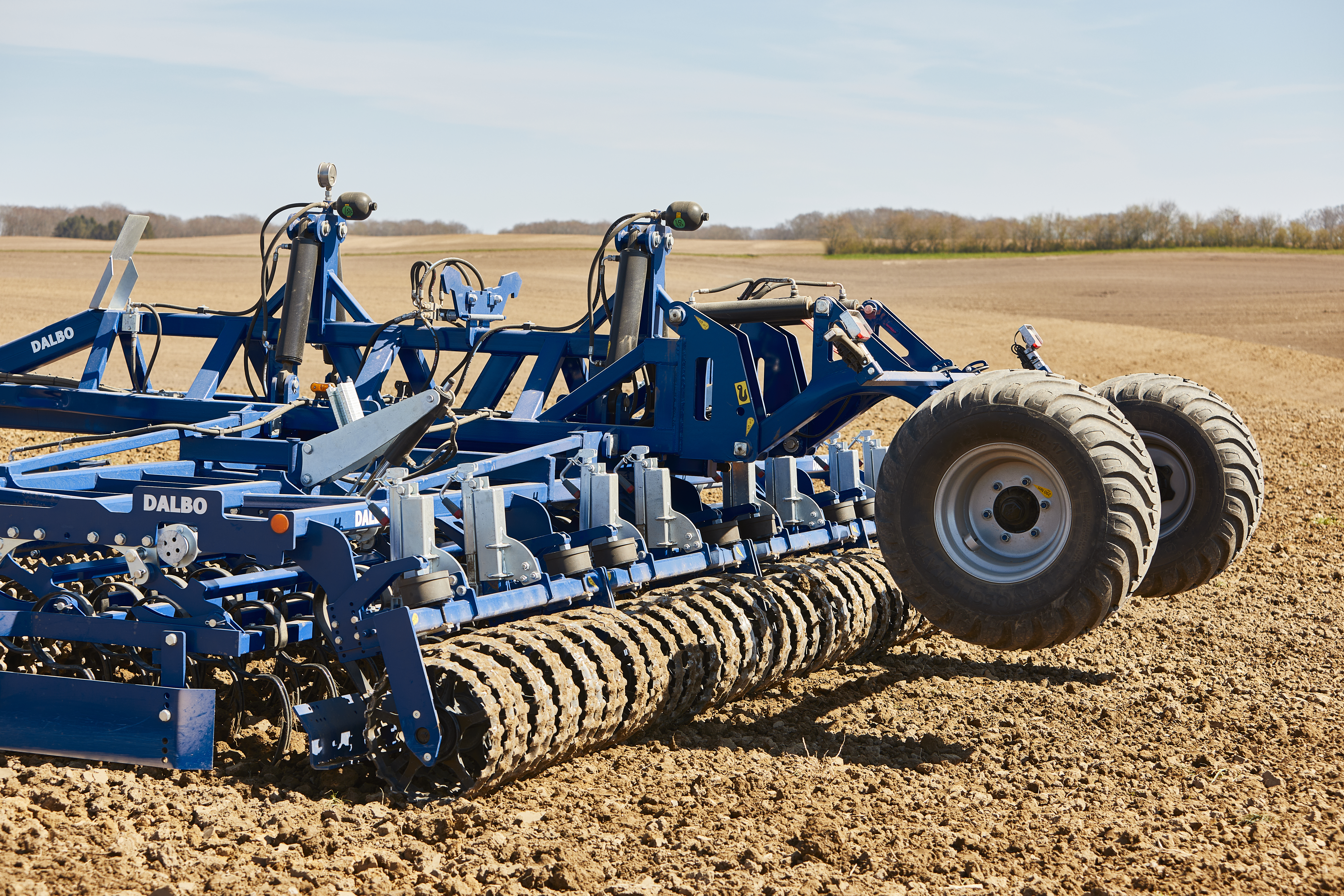 Rear steel Crosskill rings
The rear pressed steel Crosskill rings are a lighter version of the well-known moulded Crosskill ring and ensure a precise and constant working depth together with the front roller section.
They leave a loose upper layer of soil, which is firm just below the
surface, and this provides the optimal seedbed.
Accesories and extra equipment 
Bogie U-ring packer
Track eradicators
Cage roller
Air brakes
Hydraulic brakes (optional on 620 and 750, standard on 930 and 1240)
Harrow section, 3 rows of stubble tines
Rear solid bar