In modern agriculture, rolling has evolved incredibly as capacity, quality and versatility are an increasing demand from both farmers and agricultural contractors
Today, rollers are highly specialized agricultural machines that are suitable for many different soil types depending on the choice of ring type, ring size, frame design and more.
Conventional rollers are still relevant for smaller farms, but as agriculture becomes more specialized, the demand for individually tailored rollers increases.
Part of the roller revolution
At DALBO, we started manufacturing rollers in the 60s with a focus on quality and cost-effectiveness. Less than two decades later, we revolutionized the roller market by introducing one of the world's first fully hydraulic rollers.
Although this roller had, at the time, an impressive 6.00 m working width, the market wanted more, and in the late 80's we introduced the 12.20 m wide ROLLOMAT.
Since the initial major leaps in the development of rollers, we have maintained our position as pioneers in rollers.
Our current roller range extends from the simple and compact 1.50 m wide COMBIFLEX and all the way up to the 9-section 24.30 m wide advanced high-capacity MEGAROLL.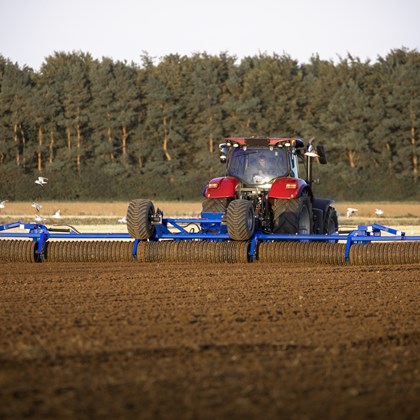 The significance is in the details
Through more than half a century of developing, manufacturing and selling rollers, we know that durability and trouble-free rolling are essential to our customers.
With a focus on implementing this philosophy in all corners of the company, we are proud to be able to supply innovative and durable rollers to modern farmers worldwide.
We have entered into valuable partnerships with suppliers who manufacture strong cast iron rings, stable and durable bearings, high quality steel profiles, robust high-tensile steel shafts and much more.
This helps us focus on roller design and manufacturing, while achieving the highest possible level of overall efficiency, productivity and durability.
A strong selection of rollers 
We offer a total of 6 different products in the conventional roller category.