One of the world´s best manufacturers of rollers 
Ever since DALBO began developing and manufacturing rollers in the mid-60s, much has happened in agriculture as a whole, and especially in the roller category.
Today, we have farmers all over the world who recognize our rollers for their innovation, performance and quality.
We work hard to maintain our position as one of the world's best manufacturers of rollers as the demands of the market increase and agricultural trends change.
We achieve this through innovation and continuous testing, improving design and construction, utilising our vast experience in manufacturing rollers and, most importantly, listening to our customers.
The advantage of rolling
The use of rollers in agriculture began more than 200 years ago and at the time was simply about making uneven fields level.
Roller technology and methods have evolved significantly since then, and modern rollers can range from a cylinder with a smooth profile to rollers with the well-known Cambridge type rollers and highly specialized rollers with unique roller profiles and various accessories.
Most farmers are aware of the benefits of rolling before and after
sowing adhering better soil to seed contact which will help establish a more uniformed crop.
Modern rolling has become much more complicated as more and more farmers recognize that rollers can be used for post-harvest stubble cultivation, seedbed preparation, grassland care and more.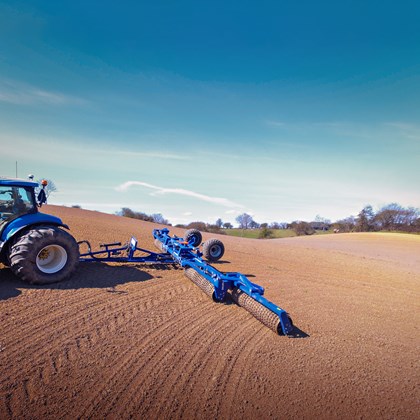 Our roller categories 
At DALBO, we want to help farmers choose the right roller for any
purpose. That is why we have divided our rollers into 5 categories:
Conventional rollers, typically used before and after sowing.
System rollers equipped with various tools.
Grass rollers for innovative care and maintenance of
grass areas.
Knife rollers for cover crops and stubble.
Front-mounted rollers and packers, which in conjunction with
a rear-mounted implement save a pass.
DALBOs innovation and unique characteristics
Fully hydraulic folding and unfolding of sections enable switching from driving on roads to field operation without leaving the tractor and without the need for further manoeuvring during the process.
Automatic transport safety. For optimal safety and ease of use
during transport.
Unique frame design and construction that provides a low centre of gravity, great stability and excellent durability.
Sealed and greaseable ball bearings that ensure long life and
easy maintenance. Rubber suspended bearings are standard on
selected models and can be selected on all models.
LED lighting. Safety for you and all others on the road.
Ø60 mm roller shafts made of high-tensile steel.
Strong frames made of quality steel and high-tensile steel.
DUOFLEX system that allows individual movement for each
roller section, thus ensuring optimal ground contact, regardless
of the contours and irregularities of the ground.
Hydraulic or mechanical weight distribution in combination with
DUOFLEX ensures an evenly distributed ground pressure over
the entire working width, and together this creates a perfect soil consolidation.
3D pendulum suspension ensures individual sections can ride over obstacles or uneven ground.
Do you have questions?
Contact your nearest dealer or one of our employees, who is ready for a non-committal talk about your needs.